Please read as much of the site as possible before emailing questions. Also be sure to check out the services page.
Gothic Limousines is far from just another limo company, but hopefully that's why you are here. The first thing most people want to know is will we travel to their area. Yes this is a NationWide service. This is the limo company for those who want to stand out from the crowd of normal's. The second thing is the price. It is impossible to give set prices as every event is different & in different venues & towns. For a quote go to the contact page.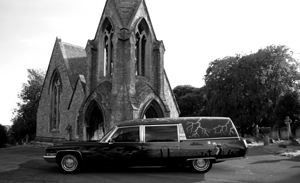 Important notes on the Proms & Halloween pages !
Why book your average limousine when you can hire something with a difference? Anybody can arrive in a white limo & be forgotten about five minutes later. Arrive in a Gothic Limousine & be remembered for all eternity.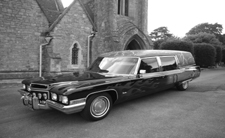 Our cars can be hired for any occasion nationwide. Please contact us for availability.
For more info on the Cadillac hearse click here.
For more info on the services we provide click here.
We can cater for...
...Any Special Occasion. NationWide!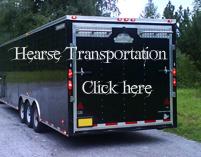 We are now in league with another dark force Noferatu Racing. More info in the next few days.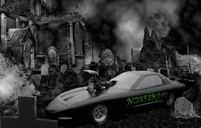 Next Public appearance
The Cadillac hearse will be at the following public events for anybody who wants to view the car & have a chat.
22nd-25th May FIA Main Event, Santa Pod Raceway.
10th April 09 Wheels Day, Rushmoor Arena, Aldershot Click for info
24th-26th April 09 Whitby Gothic weekend. We now have a job in croatia so can't attend.
1st June 08 The National Trust Classic Car Day. Killerton House Broadclyst, Exeter, Devon. Click Here to see the venue.
24th May 08 The Pissedds Custom Bike, American car and Hot Rod Show, Castle Cary Rugby Club, approx 1 mile from Castle Cary railway station www.pisseddsmcc.com/page10.htm
19th & 20th April 08 Welsh Hearse Gathering
Heartlands Transport Festival, Civic Center, Blackwood, Caerphilly
www.welsh-transport-festival.co.uk
12th & 13th April 08 Ink & Iron Tattoo Convention & Custom Show. NEC, Birmingham www.inkandiron.co.uk Sorry, NEC have CANCLED the show.
9-11 Nov 07 Classic Car Show, NEC, Birmingham. Classic Hearse Register Stand.
28 Oct 07 Fright Night in Sheffield.
26-27 Oct 07 Whitby Gothic weekend.